H i i i o s remote interpreting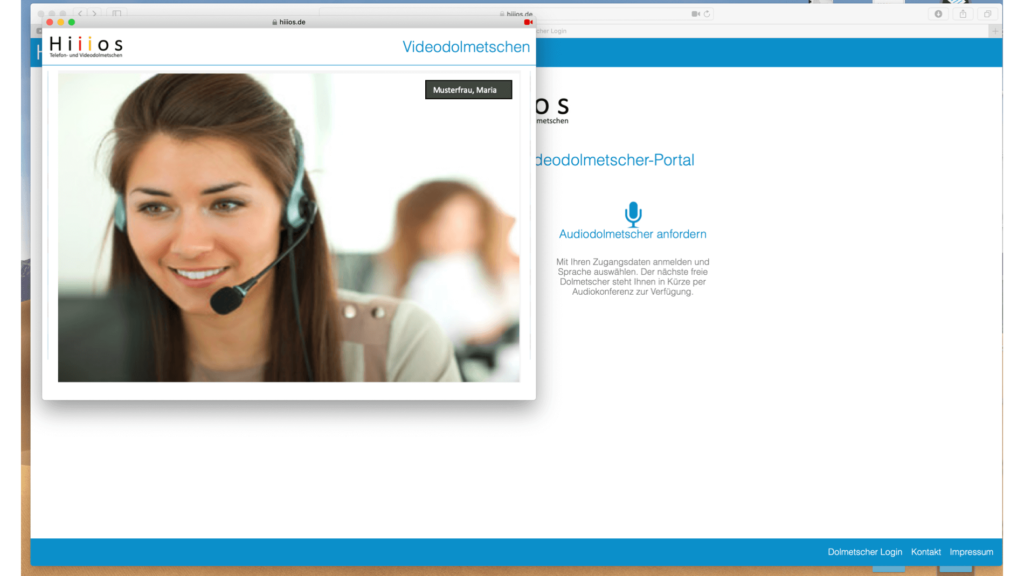 Hi, I am interpreting on screen.
Using the Hiiios remote interpreting solution, you can bring in web-based interpreters for the language you need via web browser.
Hi, I am interpreting on screen (H i i i o s).
With your government or company account, you can schedule interpreters at short notice and discuss the concerns of your customers or clients.
The system connects you with qualified interpreters within a few seconds. It is also no problem to store file numbers or reference numbers for the purpose of billing or assignment to a cost center. The detailed monthly reporting also allows you to assign calls to individual processes.
We guarantee encrypted and data protection-compliant communication of the highest quality. We would be happy to create a free test account for you and demonstrate our solution to you in person. If you have any questions or need more information about our product, please feel free to contact us. We would love to get in touch.
Remote interpreting made easy
3 clicks to your interpreter
No installation required
Schedule a meeting at short notice and off you go
Our web-based remote interpreting solution at a glance
Video interpreting for government and corporate clients
Additional option: ad hoc (VIP)
The additional option ad-hoc is an on-call service of several qualified interpreters for the respective language required, who can be called up via our platform without prior notification or appointment.
It is our concern to avoid unnecessary waiting times at the time of need, therefore we recommend an online pre-registration or appointment booking if you can plan ahead.
It is important to us that our on-call service is available on a long-term basis with a particularly low waiting time. To make this economically feasible and to be able to plan the resources actually required by our customers, we charge additional monthly standby fees per required ad-hoc language for this additional option.
More information is available upon request.
We will be happy to provide you with an individual offer and demonstrate our solution to you. Contact us. We would love to get in touch.
Frequently asked questions
Security
In the age of digitalization, data protection and the security of your communications are close to our hearts. IT security is an important topic that we place great emphasis on.
In the field of remote interpreting we use the WebRTC standard, where communication and secure transmission of data is guaranteed by the DTLS (Datagram Transport Layer Security) method. In addition, data transmission via web browser is secured by a dedicated certificate using RSA-256 SSL encryption.
We exclusively use data centers in Germany. In addition, our Internet service provider, which hosts our server, is certified by TüV according to ISO 27001. Our service is subject to the data protection regulations that are legally valid in Germany and our interpreters are subject to confidentiality.
Do you have any questions? Contact us, we will gladly give you advise!